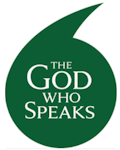 Church
of the
Good Shepherd
Easter is a very big feast in Poland and after six weeks of Lenton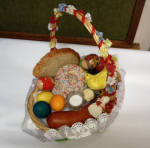 fasting, people make the most of the celebration. On the morning of Holy Saturday, the food for the Easter breakfast is blessed. A basket decorated with Spring flowers containing just a portion of the following items is taken to the church. These items are placed on a crisp, white cloth which is symbolic of Christ's shroud.

Bread - symbolic of Jesus, the Bread of Life.
The Easter Lamb figure, bearing the cross - emblazened flag which represents Christ's Resurrected.
Eggs - these are colourfully painted and they indicate new life of Christ's Resurrection from the tomb and are a symbol of life and rebirth.
Kielbasa (Polish sausage) - indicative of God's favour and generosity as well as Word made Flesh.
Salt - this is so necessary an element in our physical life and is a symbol to ward off evil.
Horseradish, because of its fiery taste, we remember the Passion of Christ.
Babka (a yeast cake) which is a symbol of the Risen Christ.

Fr Philip and those in attendance prayed and then Holy Water was sprinkled over the baskets, blessing the food..
The Easter breakfast begins after Mass on Easter Sunday and starts with a family prayer and the sharing of the blessed egg. A piece is given to each member of the family and good wishes are exchanged. This is then followed by dishes of cold meats, baked hams, salamis, salads and endless sweet cakes including the yeast 'Babka'.

Thank you Julie for sharing this tradition with us.