Church
of the
Good Shepherd
One of the main themes of Catholic Social Teaching (see Faith in Action Group) is solidarity. The global dimensions of loving our neighbour apply as much to justice in trading as to other aspects of our dealings with each other.
Many of us already buy products marked with the "Fair Trade" logo because we appreciate that giving producers fair reward for their goods is respecting their right to be treated as equal members of God's creation.
The Faith in Action group decided that the Good Shepherd Church should once again run a Traidcraft Stall as a practical reminder to all of us of the importance of justice in our trading. Traidcraft is the only organisation whose products are 100% Fair Trade. It specialises in giving opportunities to producers who are, as yet, too small to sell in the quantities bought by the supermarkets. Buying fairly traded products is one practical way of helping poor people in the developing world to build a better future.

So far the stall has been held on the third Sunday of each month after the 10.00 Mass. We sell a variety of items - from honey and peanut butter to dried fruit and nuts and even silk scarves. We hope you will enjoy the opportunity the stall offers and let us know if you would like us to stock specific items.

The Traidcraft catalogue can be seen at www.traidcraftshop.co.uk and the Traidcraft website is www.traidcraft.co.uk

A further way in which you can support fair trade is by taking a cup of tea or coffee in the Social Centre: this is now Traidcraft, too.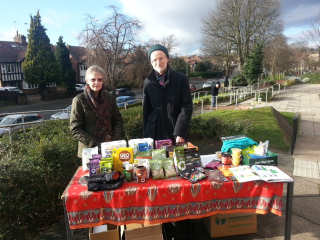 David Smallwood drsmallwood17@talktalk.net
Jane Tallents janetallents@yahoo.co.uk
Faith in Action
Catholic Social Teaching
Contacts and Meetings
Living Simply
Locally Available Fairtrade Products List