Church
of the
Good Shepherd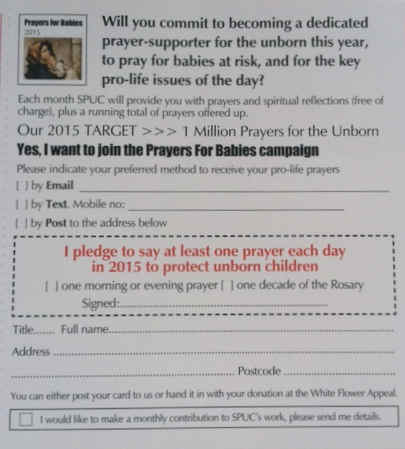 Will you commit to becoming a dedicated prayer-supporter for the unborn this year,
to pray for babies at risk, and for the key pro-life issues of the day?
Please pick up a leaflet in the Narthex, fill in details and hand it in at the parish office.

Be part of the 1 Million Prayers for Babies campaign!!
Encourage your family members and friends to join such a worthy cause. Be a voice for the extremely vulnerable.

Prayer to Our Lady for Expectant Mothers

O Mary, Mother of Jesus and Mother of us all.
Help those who feel threatened and overwhelmed by their pregnancy.
intercede for them, sweet Mother, that through
the gift of your Blessed Son's abundant Grace,
they may welcome new life and take courage to go on.
And may they experience the help
and love of Christian people,
and know the peace
that comes from doing God's will.
Amen

"Rescue those who are being taken away to death" Proverbs 24;11

If you require further information about SPUC please link on the website below.
Society for the Protection of Unborn Children