Parish of the
Good Shepherd, Woodthorpe
with
St Anthony's of Calverton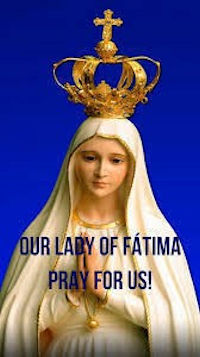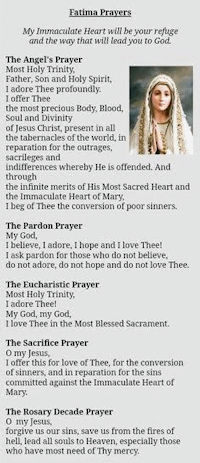 On 4th April 2019 we had a wonderful celebration for the centenary of the holy death of St Francisco Marto, one of the little shepherds of Fatima. Our Lady appeared to Francisco, his sister Jacinta and their cousin Lucia in 1917 in Fatima, Portugal with specific requests. These included the daily family recitation of The Rosary to pray for peace in our homes and peace in the world; the First Five Saturday Devotions; consecrating ourselves to the Immaculate Heart of Mary and wearing the Brown Scapular of Our Lady of Mount Carmel as a sign of our consecration.

We have in the Parish a portable statue of the Pilgrim Virgin, Our Lady of Fatima, from the World Apostolate of Fatima. It comes with a special blessing to visit parishioner's homes throughout the year. Please sign up to take her into your home for a week, to entrust to her loving care all the joys and sorrows and the ups and downs of life, for special intentions as well as to pray for peace in the world. Let us resolve to pray her Rosary faithfully every day for a week, meditating on the divine mysteries of her Son, as she requested at Fatima, so that we may deserve to experience Our Lady's powerful and consoling help in our lives.

The statue will be accompanied with a "Book of Intentions" and a Prayer Booklet which has the Holy Rosary and a "Family Consecration To The Sacred Heart of Jesus and The Immaculate Heart of Mary". You will find available in the Narthex a rota to enable you to sign up to take Our Lady of Fatima's statue into your home.

The Three Statues of Our Lady of Fatima

The Angel of Peace

What do we learn from the Angel of Peace?

The First Apparition of Our Lady of Fatima

The Second Apparition of Our Lady of Fatima

The Third Apparition of Our Lady of Fatima

The Fourth Apparition of Our Lady of Fatima

The Fifth Apparition of Our Lady of Fatima

The Sixth Apparition of Our Lady of Fatima

The Miracle of the Sun

The Little Shepherds: Francisco

The Little Shepherds: Jacinta

Sayings of Francisco and Jacinta

Witnesses: The October Miracleand an Unbeliever

Prayers to St Jacinta & St Fransisco

The Little Shepherds: Lucia

The Last Days of Jacinta's Life

What happened to Francisco & Jacinta Marto after Fatima

Five First Saturday Devotions

Learn From Lucia Francisco and Jacinta

Reparation to Console Our Mother Mary

St Joseph at Fatima
Fatima: A Breath of the Spirit